UI - PC S(H)
Auto Feed Sander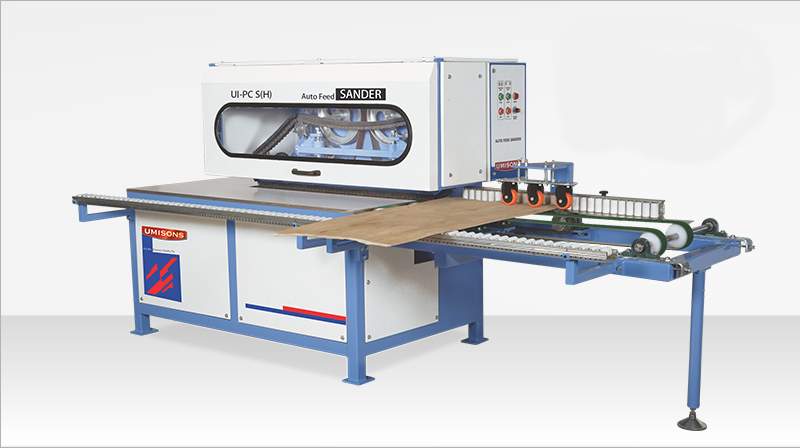 Expensive Wooden core pieces can be joined perfectly for 'Zero Gap' Ply-Sheets
Tapering of the core-pieces, as fast as photo-copying
Umisons help you use valuable small wooden core pieces more profitably. The main m/c of the package 'Autofeed Sander' works very fast, is capable of handling volumes and involves no wear-n-tear, except sanding belt.
Variable speed of feeding by VFD helps to get perfect taper in all kind of wood core
Auto Feed Sander (Heavy Duty)
Valuable Wooden core pieces can be joined perfect for 'Zero Gap' &
'No Overlapping' in ply-sheets
UI - PCJ A60
Auto Joint Heat & Press

A worker has to just keep placing the glued core pieces on the work table. The machine slides the pieces, lock the joints, does the pressing-n-heating. After the timer-set process it relieves the pieces. It is ready for next set of pieces.
| | | |
| --- | --- | --- |
| Technical Specification | UI-PCS(H) | UI-PCJ A60 |
| Electric  Power | 5 HP power | 3 kw Heater |
| Working Width | – | 60″ |
| Compress Air Require | – | 10 kg/cm2 |